Days and Time
April to Oct : on demand.
We are working on providing them more regurlarly but the pandemic passed by since then and we have to restart with another chef.
On the other hand, you can privatize a class if you contact us enough in advance.
November to March: On request only.
Duration
The Antibes Provencal Cooking Class is lasting approximatively 2,5-3 hours. Meanwhile, we will teach you to cook a typical Provencal recipe… However, class may vary depending on provisioning, restaurants' affluence and group's abilities.
ANTIBES Provencal Cooking Class Program
Content
Joining our Antibes Provencal Cooking Class is the perfect way to get hands on the French culture!
Time for you to become a real chef and cook your own local recipe with the guidance of a professional chef inside his professional kitchen! In other word, we will be teaching you all the French classics along with all the French Riviera typical dishes!!
Our partner's restaurant is aligned with our eco tours as they provide local organic food and reduce their plastic use and impact on environment!
In conclusion, you will enjoy a fun and relaxed atmosphere during this unforgettable foodie experience!
Recipes
Each session will be different but during this course, you will learn 2 different recipes as well as making an incredible Tapenade.
As below the different combos:
– Pain bagnat & Ratatouille.
– "Petits Farcis" (stuffed veggies) & Aioli.
– "Daube Nicoise" (beef stew) & Beignets de fleur de courgettes (deep-fried zucchini flowers).
– Pissaladière & Salade Niçoise.
Special Diet
If you let us know in advance, we can accomodate special diets. We can be vegetarian or vegan friendly! Make sure, you communicate your allergies or intolerances while booking.
So, if for any reason, we can't have you in required conditions, we can link you to our partner specialized in vegan/vegetarian cooking class!
The Restaurant and the Chef
The Restaurant Bistrot de Jules
The Antibes Provencal Cooking Class is taking place in « Bistrot de Jules » restaurant right in the middle of Antibes'old town. For instance, this unique place is welcoming locals and visitors in a typical Provencal/Niçois decor.
In addition, fresh and seasonable fruits and vegetables are passing directly from their display outside straight into your plate! A simple but tasty home-made cuisine which reveal all the flavours from the exceptionally selected ingredients!
On one side, the restaurant with elaborated and fine cuisine called "Don Juan". On the other side, the « Bistrot » and its Provencal/Mediterranean recipes (aioli, petits farcis, daube & gnocchis…).
Moreover, this place has home-made bread and desserts along with a large selection of organic wines!
The Chef : Romain
After multiple experiences in Michelin Star restaurants and other gastronomic kitchens in France and England, Romain has joined « Bistrot de Jules » and its traditional kitchen!
Getting along with its concept, he is now putting his talent to work and enhance the Provencal flavours in the most local dishes!
As a result, he would definitively be the best teacher you can think about when it comes to Mediterranean food due to a beautiful personnality and a good english!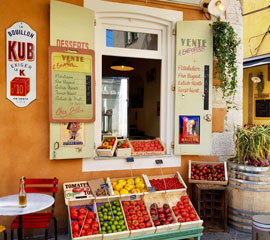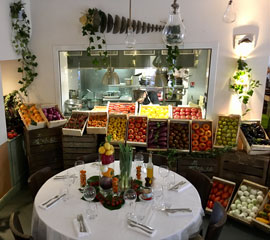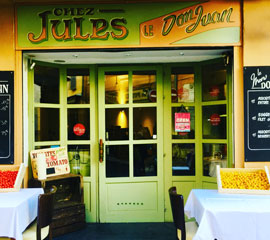 Other Tours you might be interested in