French Riviera Road Cycling Tour
Get yourself a taylor-made French Riviera road cycling tour by a "pro cyclist"!
Why not cycling The Tour de France, the Nice Ironman track or even a coastal road?

FRENCH RIVIERA ROAD CYCLING TOUR CONTENT
Do you want to ride the French Riviera?
Discover the Southern French Alps, narrow back roads of the Mercantour or stick to the iconic blue coast line? Even a flat coastal ride towards the Esterel? How about one of the famous local climbs such as the Col de Madone or the Col de Vence? You could also experience the breathtaking views on offer including the village of Gourdon, Saint Paul de Vence or even Monaco. Or Maybe you want to try the Nice full or half Ironman route? This year's Tour de France has 3 days of stages starting from Nice, why not give it a try yourself?
Ingun knows all of these routes and many more.
She can put together a route tailored to your abilities and wants. Your personalised road cycling tour can take a single to several days cycling in the area. The possibilities are unlimited.
PRICE
The price is made upon request and depends on the number of participants and length of the tour. We have various partners to provide you with the most relevant bikes for your needs. The number of participants that can join the group is 1-12 in general and might go above eventually with the help of 2 guides.
INGUN'S STORY

"Many years ago I fell in love with the Cote d azur for many reasons.
Not simply the blue sea and limitless blue sky but also for it's inspiring and impressive culture of cycling.
Over these years I have come to know and love the many scenic roads and Alpine routes.
There are also many tough, but fun competitions here.
I myself have taken part in the world famous Paris, Nice challenge.
I have also competed in the tough 'Ironman' Nice 4 times finishing 5th in 2016.
Taking things more leisurely, there are so many beautiful rides locally.
I am particularly fond of routes that take me through the picturesque villages, such as Tourette or Gourdon. Or the climb to the top of col de Eze is worth every breath just for the view.
I have had a busy 2019 season having competed in World Championship in half ironman in Nice, done a 520  kilometer endurance race in Norway and the infamous 'Norseman' triathlon also in Norway. I am very proud to say I won the coveted black T shirt for completing this latter epic event."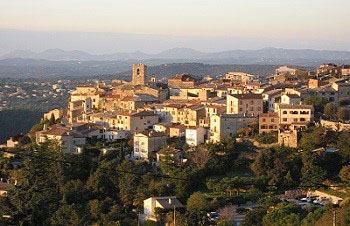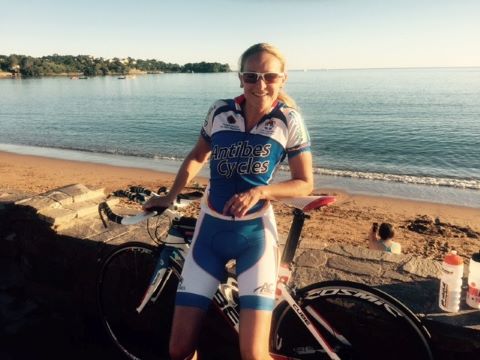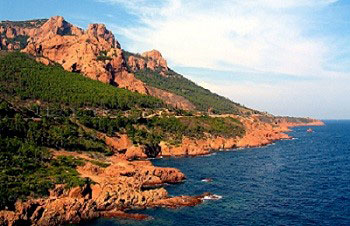 SAMPLE RIDE: COL DE VENCE
Col de Vence is one of the most popular climbs in the Côte d'Azur. From Antibes it can be a quick ride of 2 – 2.5 hours up and down with 50 km and 1000 elevation gain. But it can be extended; passing some more picturesque villages, into car free roads in the mountains. Extend it to 93 km with 1600 elevation gain, which will take approx 4.5 hours on the bike; passing la Gaude, stopping at St Jeannet for a coffee, a stop at Vence to fill up the bottles with fresh water from the fountains, into Coursegoules beautiful scenery, breathtaking views from Gourdon where you can see "all of the Côte d'Azur". Gourdon is an old village that is also popular for paragliding. Finish via Biot and lastly take the bord de mer back to Antibes.
SAMPLE RIDE: A FULL DAY'S RIDE
Starting from Antibes, then around the iconic Cap d'Antibes – home to the rich and famous. Then through well known Cannes. The climbing starts from Mandelieu towards the mountain top village Tanneron, famous for it's sea of yellow mimosa flowers. Then a well deserved decent back to sea level at St Raphael for lunch. The coast road back to Antibes takes you through the amazing Esterel with it's famous towers of red rock. This is about a 135 km ride and 2100 m elevation gain, moving time on the bike is about 6 hours. A treat for the eye.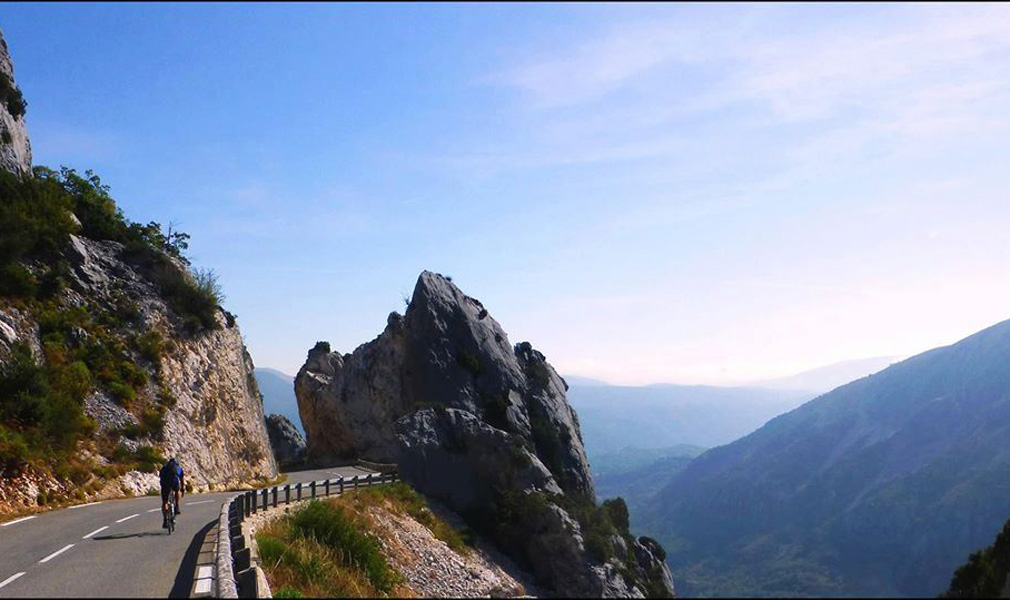 ARE YOU INTERESTED?
If you are eager to give it a try send us an email with what you would like to do on your very own tour. Some samples of tracks are also available. Let us know if you have any experiences as well. Ingun will guide you through the whole process from setting up a road cycling track to the point where you have finally reached your goal!
If you think it might be a bit too much for you don't worry, we also offer Electric Bike Tour in Antibes which is only 20kms ride with amazing views. This experience is not so much of a sporty one but more about entertainment and pleasure!
Other tours you might be interested in