Nice free Walking Tour Program
Operators
This tour is operated by our partner RivieraBarCrawlTours. Contact them for more information regarding their Nice Free Walking Tour.
History
A little introduction to "Nissa la Bella" as known in the local Nissart language, a mix of old French and Italian.
Nice being the biggest town on the Riviera, you have probably landed there if you came by plane and discover this big city of 1 million+ inhabitants making her one of the most visited place in France.
Nice is very famous for its seaside called "Promenade des anglais", its busy waterfront and for being a mix city of art and history.
While the greeks have created a settlment here around 350BC called Nikaia, we have found nearby some evidence of very early use of fire by prehistoric men more than 300000 years ago on Terra Amata.
Nice being very close to the Italian border, you will have a real feel of their influence even in nowadays buildings and architecture.
Nice was part of the Kingdom of Savoy for many years before getting reunited to France in 1860! Not so long ago…
Artists have fallen in love with the French Riviera with lots of them staying around Nice as well as smaller and authentic villages like Antibes, Saint Paul de Vence… As today, Nice is known to host some of these artists' museums:
Matisse museum, Chagall museum and others like MAMAC (contemporary art), Terra Amata (prehistorical), Cimiez (archeological) and many more… Making Nice one of the top destination on a rainy day

But you will be pretty unlucky if it happens to you as Nice enjoys around 300 days of sunshine per year so be reassured, you might be able to reach the beach the next day!
Taking about the beach: Nice's beach is made of pebble stone and not sand! That's what give the color of the water there such a turquoise color! Stunning.
If you are not fan of pebble stone, you'll have to come down to Antibes and Cannes to enjoy some of the most beautiful sandy beach on the coast!
Bonus: we also provide free walking tours in both of these cities with a maximum of 20 visitors per group for a much more intimate experience.
Content
The Nice Free Walking Tour is a great way to discover the old town neighboorhood. Starting at the heart of the town on Place Massena, the tour will take you through the narrow and busy streets of the old town. You will pass by all the famous attractions listed below while learning about Nice's history and hearing some very interesting and fun facts about this city. Walking through the market will also make you discover our way of life through our amazing fruits and vegetables who's making our provencal cuisine so tasty! The tour is finishing on top of Castle Hill with the most panoramic views of the all city and coast.
Highlights
The Nice Free Walking Tour offered by our partner includes stops at:
Place Massena
Promenade du Paillon
Opera House of Nice
Nice Old Town
Cours Saleya Flower Market
Palais de Justice
Palais de la Préfecture
Place Rossetti
Promenade des Anglais
Nice Castle Hill
Days and Time
The dates and times may vary but RivieraBarCrawlTours generally runs an english tour everyday (specially during high season) at 10:55am or 6pm (during high season). Check on their website to confirm availabilities.
On the other hand, you can privatize a tour for a personalized experience at a suitable time for you. Feel free to drop us an email at [email protected] or by Whatsapp on +33782851997.
Duration
The Nice Free Walking Tour is lasting approximatively 2 hours. The tour covers the attractions listed above. However it can vary a little depending on public restrictions, the pace or the own good of the group.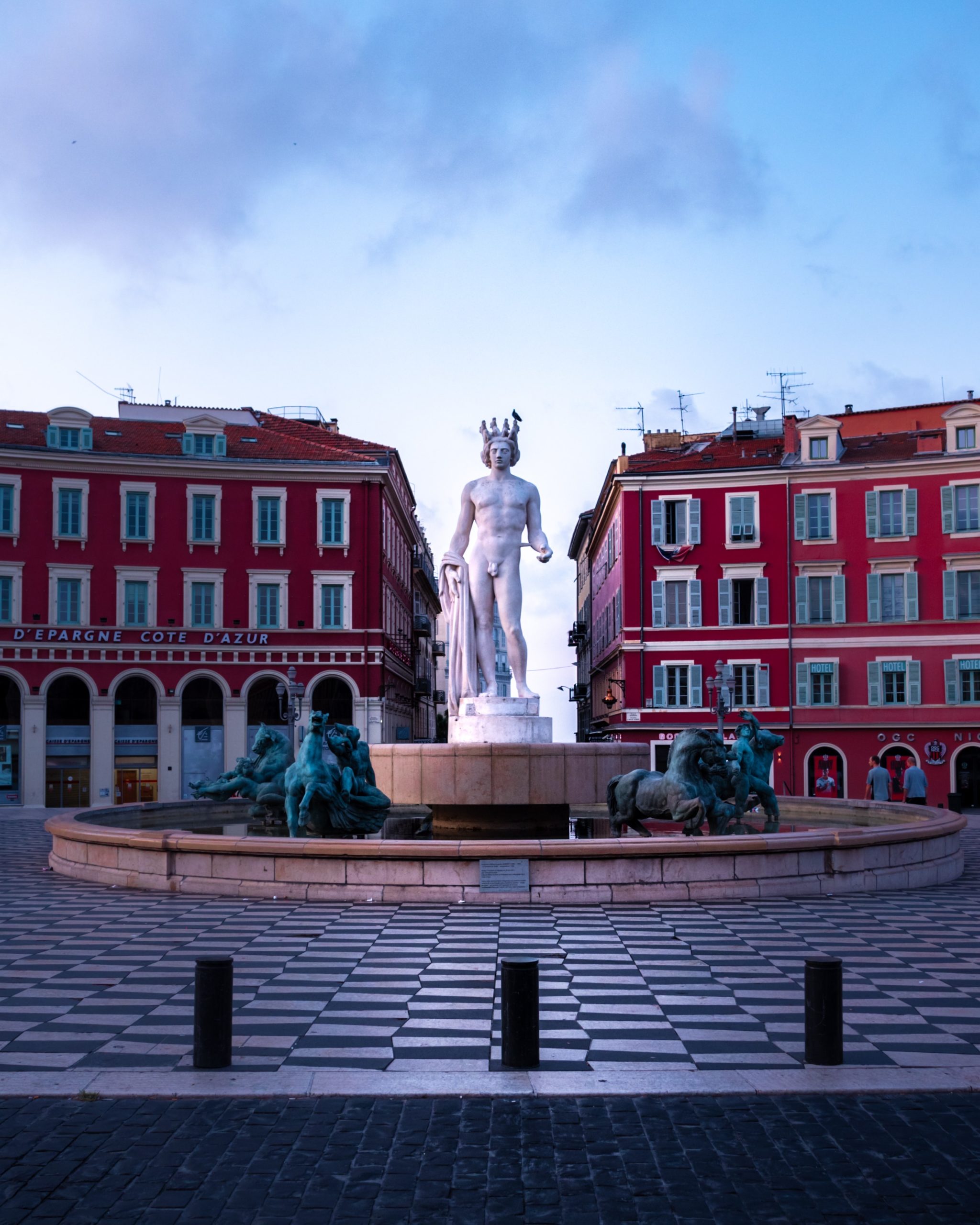 Nice Private Walking Tour Meeting Point
Meeting Point
The meeting point is right in front of the statue on the Fontaine du Soleil, Place Massena, Nice, France. Look out for a red shirt guide with an umbrella!
Group Size
The maximum number of people on the tour is 50. During high season, the group is generally at maximum capacity.
Price
Since it's a Tip-Based Walking Tour, you don't have to pay anything to book your tour. Only to leave a tip at the end of the tour according to the quality of service you received.
Booking
You can book online on RivieraBarCrawlTours's website. Bookings are mandatory to avoid disappointment of turning up and not being able to join if tour is fully booked.
Private Tour
If you do prefer the sound of a private tour of Nice, WhatToDoRiviera have knowledgeable and fun guides to show you Nice in a smaller group size to give you the best experience and a real taylor-made activity.
Feel free to drop us an email to check on our availabilities!
We do have guides with native languages to show you around in English, Italian, French… We can also offer tours in Russian.
Other Tours you might be interested in