Top 8 free things to do in Cannes

Marla , Tour Guide & Unconditional Traveler, Germany
Cannes is well known as the city of the rich and famous and also for being quite expensive. While this is true on one hand, there are also several ways to enjoy the city on a small budget. Getting to know a city through culture and nature is definitely doable for free and sometimes these activities are even more valuable. At Whattodoriviera, we want you to fall in love with the beautiful Cannes just as much as we are in love with it. And falling in love should never be expensive, right? That's why we created a list of top 8 free things to in Cannes.
It's so easy and definitely worth it! By joining one of the Cannes Free Walking Tours you will be able to see all the top attractions of the city, get a feeling of the culture and traditions and you will get to know insider tips to discover things you would not have found by yourself. And all of this in just 2-2,5 hours and for free! Thanks to your professional guide, you don't have to go looking for information on attractions by yourself in the internet. Naturally, you can feel free to reward him with a donation at your discretion if you enjoy your visit along his side.
 
2. Go for a walk on "La Croisette"
The Croisette perfectly represents the luxurious and glamorous image of the city, which is why it is such a famous tourist magnet. When walking along the boulevard, you'll come by many big luxury hotels, boutiques, Casinos, the Canto Harbour and beautiful parks and gardens that will provide you with some shade. As the boulevard connects the beaches with the city, you'll pass by some sandy beaches as well! By the way, a very important tip here is that the public beaches are located on each side of La Croisette boulevard. So overall, there's plenty to see and a certain flair to catch on this road!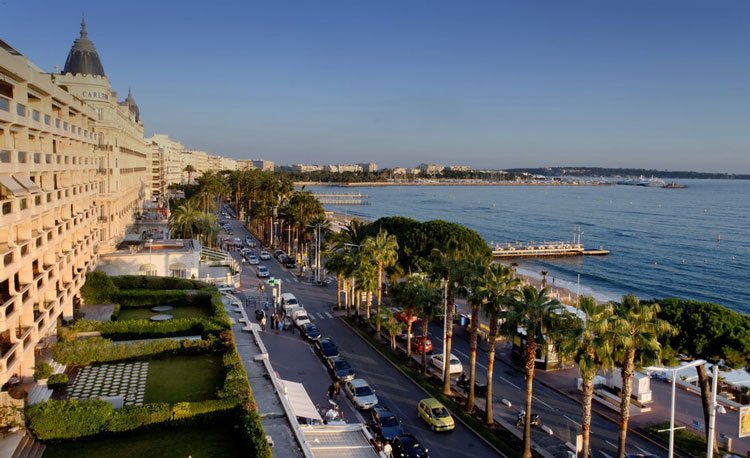 3. Discover the neighbourhood of "Le Suquet"
This picturesque medieval part of town with its small steep streets and pastel colored houses lays on a hill. That is to say that this place is offering an amazing view to the rest of the city, the harbour and the Croisette. Don't miss out on it even if during summer the walk up can get you a little warm! In other words, it's not only a bliss for the eyes but also a view on the city's history.
 
4. Visit the Marché Forville
The Marché Forville is one of the most popular markets on the French Riviera! Just next to the old town, you'll find vendors selling all kinds of fresh product, most of them from the region itself. Olives, cheese, meats, seasonal vegetables and fruits.. the list is long! Even without buying anything, it is a great place to observe the show and to be astonished by the products the French Riviera have to offer! In short, the market takes place daily, except for Mondays, from 7am to 1pm roughly.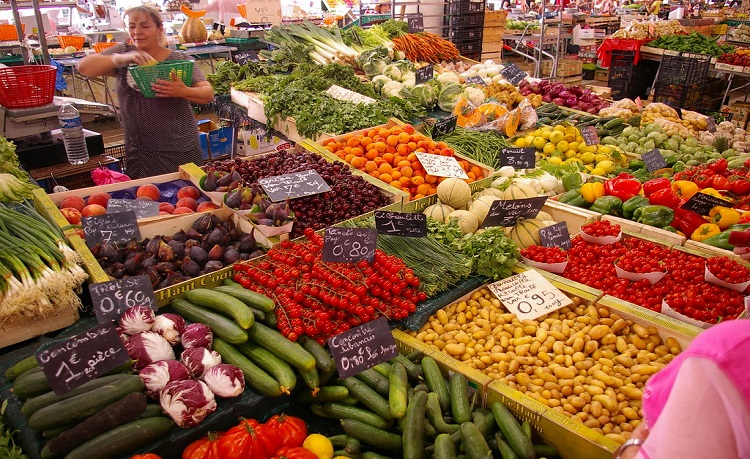 Marché Forville: woman selling fresh vegetables
s5. Visit the "Notre Dame de l'Espérance" Church
The Catholic church of Our Lady of Hope that was built in the 16th century has been stated as a historical landmark since 1937. Moreover, it is located on the Suquet hill in the old town, from where you get an amazing view over the city. The church was built in gothic style but contains other features such as the porch in Renaissance style and a bell tower in Romanesque style.
Inside the church you will find medieval carvings and the main altar on top of which a statue of Our Lady of Hope is located. To resume, the visit is perfect for culture lovers and believers!
 
6. Enjoy the beaches of Cannes

You will not want to miss out on one of the best free things to do in Cannes: Go to the beach! Next to all private ones that do have a cost, Cannes also has a number of public, free beaches to offer. From the sandy beaches on both sides of La Croisette boulevard to the long one along La Bocca neighboorhood, there will definitely be a place that fits your wishes. Be its watersports, a family beach day or a calm place to relax, Cannes will not disappoint!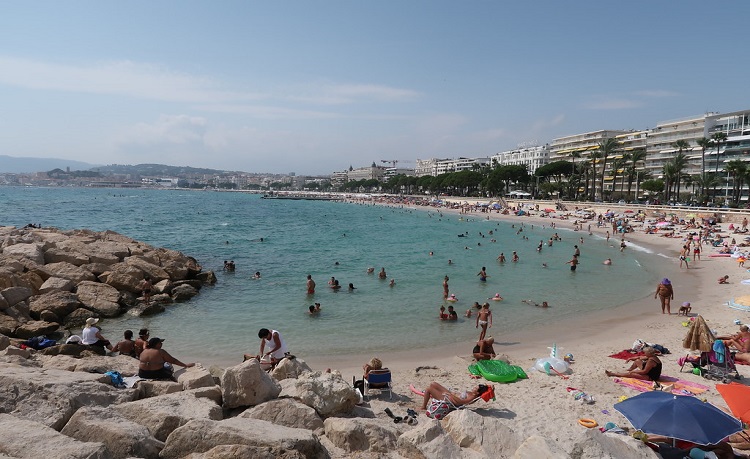 Public beach in Cannes on a sunny day
7. Hike up to "La Croix-des-Gardes"
The "Croix-des-Gardes" parc offers lovely walks and little hikes from which you'll have a view on the bay of Cannes and the Massif de l'Esterel. On the way to the green hilltop, you will find several prestigous Villas. The "Villa Rothschild" from the 19th century offers shady hikes under palm trees with its gardens that are open for the public.
 
8. Take a selfie on the red carpet in front of the "Palais des Festivals et des Congrès"
This place is especially popular due to the International Cannes Film Festival. Why not have a look at it yourself and take some pictures on the stairs that are covered with a red carpet? It will make you feel like a movie star yourself and will probably leave you with a great picture! Meanwhile, if you are interested in discovering more of the inside, the Cannes Tourist Office offers visits for a small 6€ fee. Follow this link for more details and for bookings.
Want new articles as soon as they get published?
Subscribe to our Awesome Newsletter.