6 restaurants where to eat lunch in cannes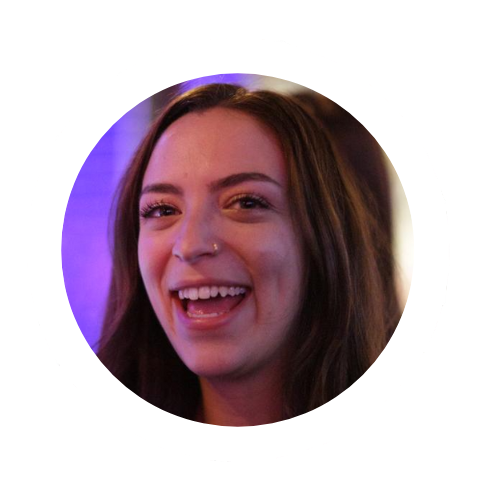 Ysa , Tour Guide & Earth Lover, France
A visit on the French Riviera can't be whole without a visit in Cannes. With its Promenade de la Croisette, its Palais des Festivals et des Congrès, its famous red steps welcoming the greatest celebrities of the cinema on the occasion of the Cannes Film Festival in May, its port and its impressive yachts, its cinematographic frescoes representing the stars of French and international cinema, Cannes has it all and competes easily with other successful cities.
Cannes is therefore on the to do list of must-sees on the French Riviera not only for its cultural attractions, but also for its cuisine. Oh yes, Cannes ranks very well on the list of cities where you eat the best. In fact, stars from all over the world visit this city and expect nothing less than tasty food.
Fortunately, you don't have to be a star to eat in Cannes during lunch time. Since all you need are local guides from What To Do Riviera to find the top 6 best restaurants to eat in all seasons, the selection presented here offers typical French and Provençal dishes. It's up to you to choose your vibe and let yourself be transported by this culinary experience that will definitely make you travel.
1. La Potinière

Founded in 1948, this gourmet bistro offers dishes inspired from the Mediterranean cuisine. Here, the "real" is honored and the lace is left out. Get ready for a southern French culinary experience full of flavors, textures and pure bliss.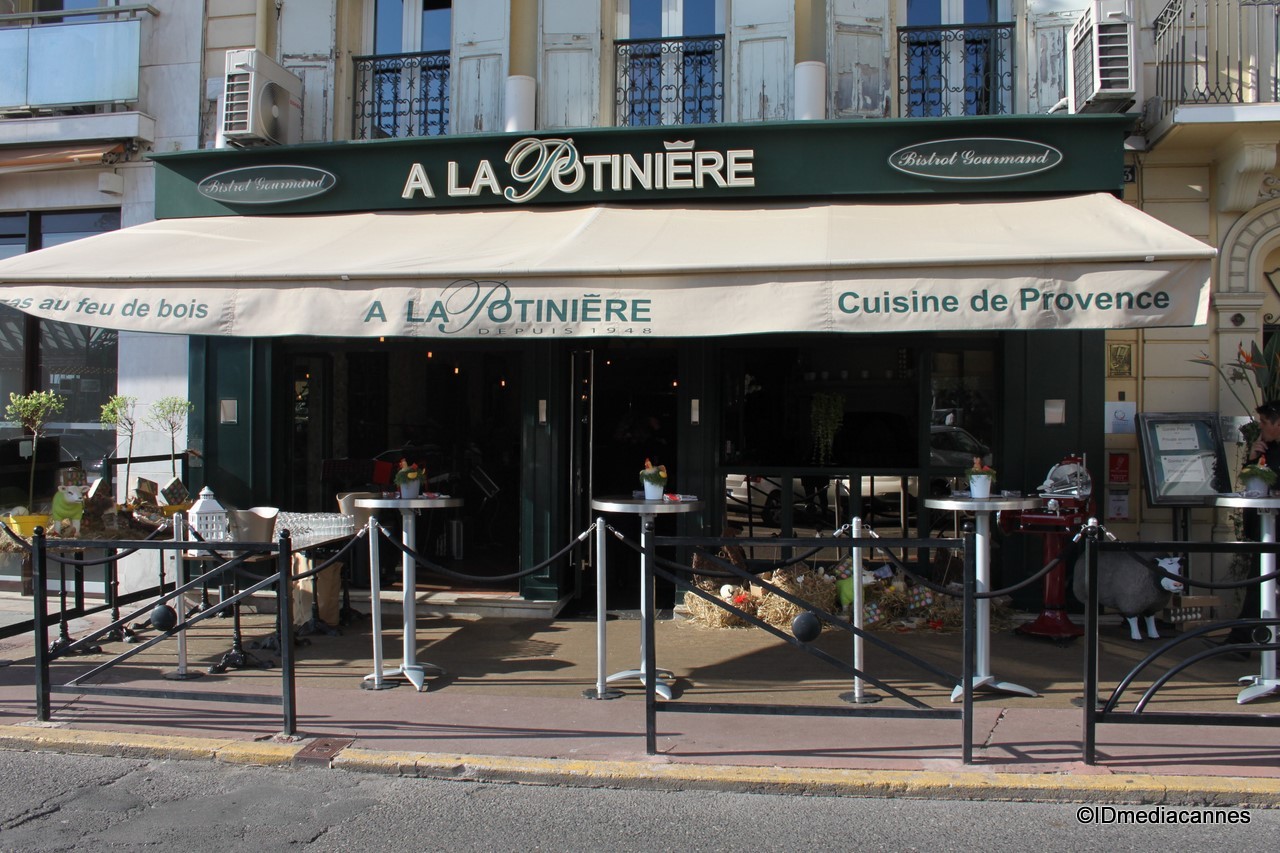 Practical informations

Address: 13, Square Mérimée, 06400 Cannes

Phone: +33 4 93 39 02 82
2. Le Pastis
Open from 8 a.m., Le Pastis is a counter café that offers French cuisine in a bistro style. Full meals as well as freshly baked pastries are served there. This restaurant with a very southern name, stands out for its variety of services, during long opening hours. Indeed, a visit to this establishment is non-negotiable during your stay in Cannes.
Practical informations

Address: 28, rue du Commandant André, 06400 Cannes

Phone: +33 4 92 98 95 40
3. Yvan's

Yvan's offers a lunch menu that will satisfy everyone's appetite, produced by the chef who holds the same name. Authentic and sincere, Yvan's team is ready to welcome you with a smile, under the dazzling sun of the French Riviera in Cannes.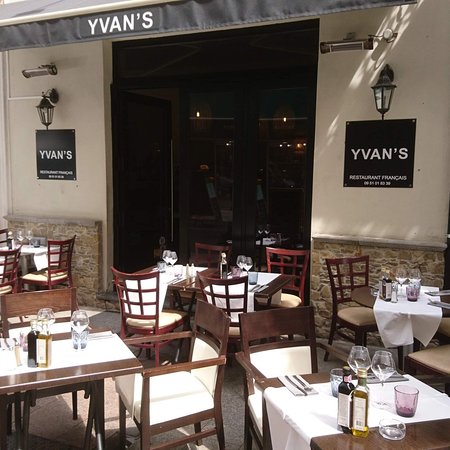 Practical informations

Address: 29, rue Hoche, 06400 Cannes

Phone: +33 9 51 03 83 39
4. La cuisine d'Aqui
In the Provencal language, as well as other latin languages, "aqui" means "here". Therefore, that is exactly what the restaurant on Rue Louis Blanc offers. Its authentic Provençal cuisine offers mainly salads as well as dishes made from fresh and local products. Also, you can find one of the region's flagship dishes, Socca. Very simple but Ô although comforting. Likewise, the authenticity of the establishment lies in the fact that no presence on the web exists on their part. Thus leaving the mystery of going to taste their cuisine under the word of the locals!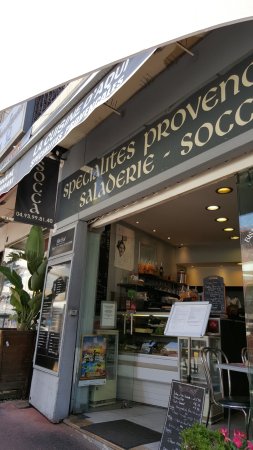 Practical informations

Address: 6, Rue Louis Blanc, 06400 Cannes

Phone: +33 4 93 99 81 40

Unless proven otherwise, open every day between 8:30 a.m. and 5 p.m.
5. Côté Marché
Côté Marché is possibly one of the cutest restaurants you'll visit in Cannes. The warm atmosphere of the French Riviera will surely make you smile when the time comes to pick up your lunch there. Specializing in breakfasts and lunches, early risers will be able to take full advantage of it, as well as late risers, until mid-afternoon.
Practical informations

Address: 4 place, Rue du Marché Forville, 06400 Cannes

Phone: +33 4 89 82 54 96
6. Bobo Bistro
Indeed one of our favorite restaurant located on the Golden Square of Cannes. As a matter fo fact, the Bobo bistro is unequivocally THE restaurant where it is imperative to go eat. Offering seasonal cuisine with fresh, local and organic products, the establishment is a warm place where every detail has been thought out. Therefore, it is offering the best culinary experience to locals and travelers alike.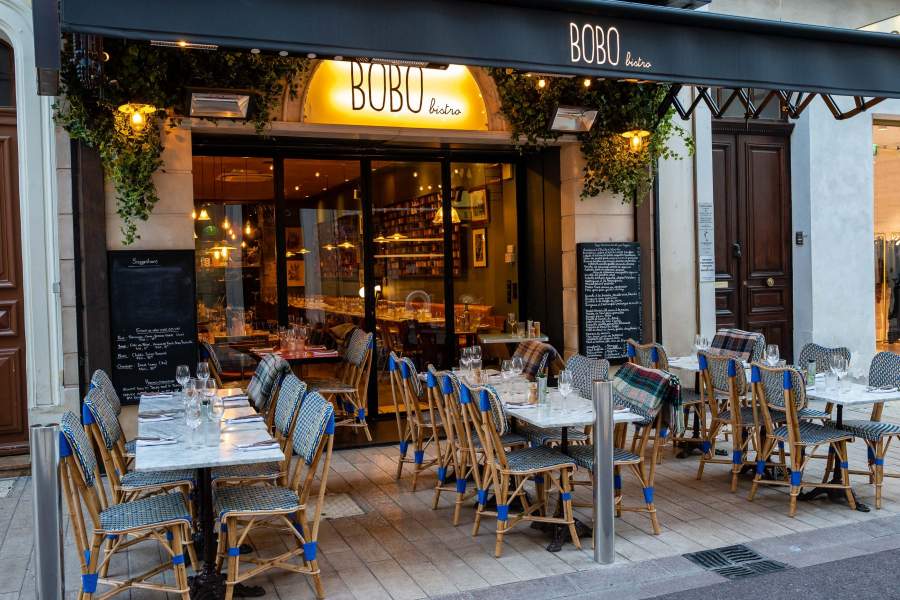 Practical informations

Address: 21, Rue du Commandant André, 06400 Cannes

Phone. : +33 4 93 99 97 33
Although a lunch break can be very satisfying for your taste buds, Cannes is well worth spending a whole day or two there, even if it means discovering its history via a guided tour. Walking, discovering, discussing, exchanging and being inspired will surely wet your appetite to experience its evening cuisine and its festive evenings.
Both Bobo Bistro and Le Pastis are located just right next to our final stop on the walking tour making it very easy to reach out for food after a wonderful time discovering the city! Book your tour now.
Do not hesitate to write to us for your next visit to Cannes on our social media or via our website. Visit Cannes like a local and don't miss the opportunity to fully immerse yourself in the culture of the French Riviera.
Want new articles as soon as they get published?
Subscribe to our Awesome Newsletter.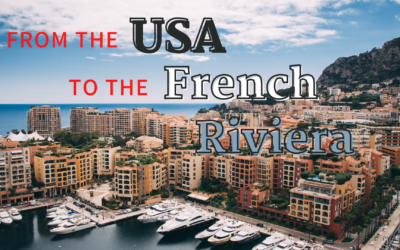 How to reach the French Riviera from the United StatesYsa , Tour Guide & Earth Lover, FranceFebruary 4th 2023Even if the third biggest country in the world has a climatic diversity that hosts an impressive variety of landscapes, flora and fauna, its inhabitants...
read more