What To Do on the French Riviera in December

Cédric , Tour Guide & Unconditional Traveler, France
Who haven't dream of a white Christmas in France?!
Our wonderful and sunny French Riviera is definitely known all over the world for its 300 days of sunshine per year and has become a real summer destination. But do you know that tourism all started here in winter? Northern countries were coming down to enjoy a mild winter while it was cold and snowy in their own country.
Nowadays, the French Riviera had become just the best of both worlds: the sea side and its very mild winter along with the ski stations just an hour drive or two from the coast. Offering you the opportunity to go skiing during the day and enjoying a walk on the beach or even a picnic in the evening. Not to mention skiing with a sea view…Just incredible!
Well, you probably felt like not following the crowd and you have booked your Christmas holiday in the South of France! Good choice. Now let us help you get entertained in December on the French Riviera!
Activity 1: Get yourself a day trip (or more) to the mountains

From Cannes to Monaco, it will only take you a couple of hours to reach the 3-4 main ski stations around, amazing no?!
Skiing with a sea view isn't something that you can do anywhere.
The main ski stations are Isola 2000, Auron and Valberg with the largest domains (345kms of ski slops between the 3 of them). Auron is actually the biggest one but Isola 2000 is slightly higher. If you are looking for a smaller, family sized station, check out Greolieres-les-neiges. We absolutely love it!
There's also something magical about seeing the Alps from the coast, the blue of the ocean and the white snow on the background is one of the best view you can experience! The photos can't even reach the beauty of reality!
Skiing is enjoyable here during all season, you will be most likely to enjoy some wonderful sunny days. From their highest point, you'll enjoy a 360° view of the entire coast on one side (even a bit of Italy) and the Alps on the other side. On a perfect day, you can also spot Corsica, the "Carribean island in the Mediterranean sea" as we love to call it.
Pricewise, the 3 main stations offers day pass around 35€ while Greolieres will cost around 23€.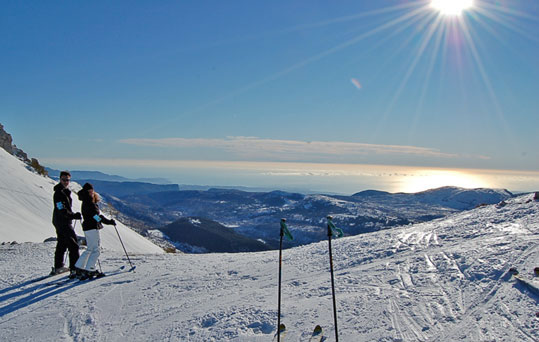 Mediterranean sea view from the top of Greolieres! Absolutely stunning!
Photo by: Le Foulon (country house in Provence)
Activity 2: Wander around the Christmas Markets

France is famous for its Christmas markets and the French Riviera has got what it takes to make you feel like Christmas even with the sun!
All the cities on the coast have their own Christmas markets where you can find wooden chalets full of art, decorations, "santons" (typical little figurine made of clay to decorate the Christmas crib), savoury and sweet Christmas delicacies…
Markets are generally on from early December till Christmas day, some till early January.
While the kids play on the ice-skating rinks, don't forget to enjoy a glass of mild wine with fruits and spices infused! Perfect to warm you up on a cold day. If you don't like it, there's often a stand offering champagne too!
If you want to know more about the French Christmas traditions and be guided through Christmas markets, our company is running Christmas markets tours (with tasting optional) on demand in Antibes or around. Please be in touch to check availabilities. Find more info on our dedicated page here.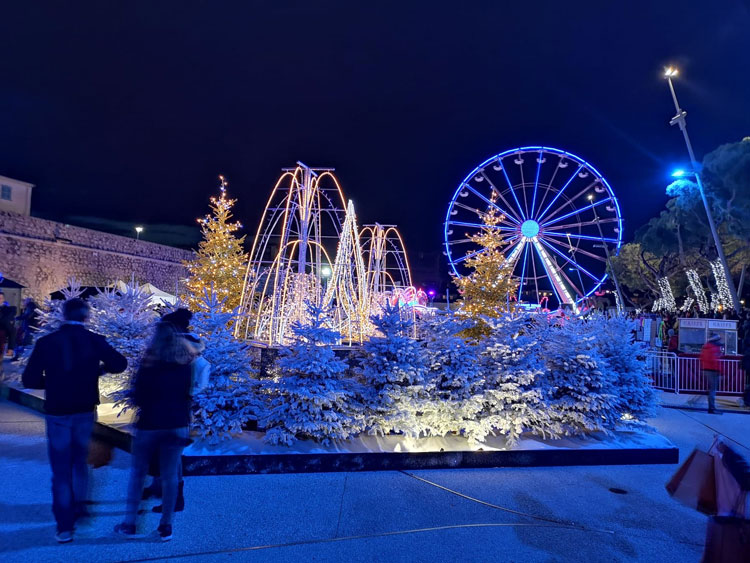 Christmas market in Antibes
Activity 3: Attend some international events in Cannes

In December, there's a couple of International event like the MAPIC (International Retail Property Market event) taking place early December and gathering 8,200+ retail, property, food & leisure leaders from over 80 countries.
Another big congress is ILTM (International Luxury Travel Expo) which follows MAPIC and closing the congress season before the Christmas festivities. A congress where travel brands and advisors are meeting to connect and talk about new destinations, offers…
Here's a link to the congress website of Cannes for more info: Palais des festivals agenda.
We are personally looking forward to seeing more sustainable options in this field as for us luxury rimes with enjoying our beautiful planet as it is!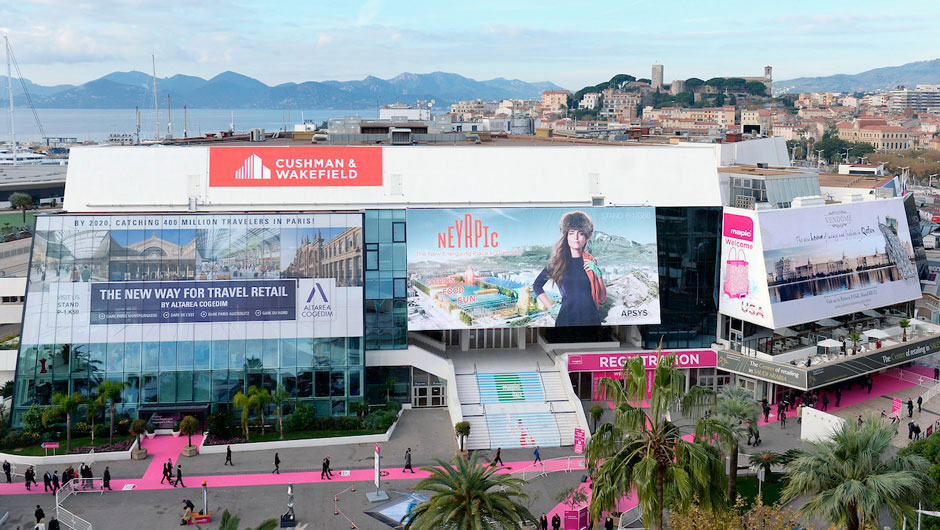 Activity 4: Join the fun Christmas or New years swims
What!! Getting a swim for Christmas, are you crazy or what?! Well, not really.
Having a swim for Christmas or New years is a tradition here in South of France. But don't worry it is not as bad as doing it in the iced lakes of Norway or Sweden… The sea water is generally around 15 to 16 degrees at this time of the year so it is totally doable.
This event is so much fun, it's like a dressing party. Plenty of santa's hats floating around!
The perfect way to get rid of your hangovers!
Here's a video from Antibes New years' day in 2019: The first swim of the year!

New Year's first swim of the year in Antibes
Activity 5: Make your own perfume or offer the experience
Fragonard and other big perfume brands around Grasse (capital of perfumes worldwide) are offering you the opportunity to join a "make your own perfume" experience.
As we are getting close to Christmas, it could be the perfect double gift: get yourself the experience to create the perfume and offer it to your loved one! Fragonard has English speaking workshops on Fridays in general for 69€/person and you will leave with a personalized 100ml bottle.
A fantastic experience which will definitely leave you with memorable souvenirs!
Please make sure to book your session in advance though. Here's the link to their website: Fragonard perfume making workshop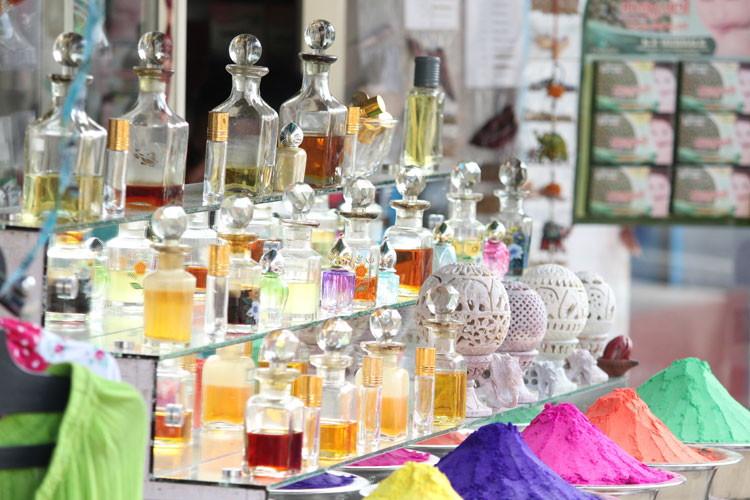 Activity 6: Go large for a memorable New Year's eve party
Now, you know what to do on the French Riviera in December, it's time to get ready to party!!
Every year, the French Riviera is organizing all kinds of parties for New Year's Eve! You can go super fancy and glamourous in Monaco or Cannes for example or try to enter a public party in the area. Casinos and high end restaurants organize dinners followed by dancing. Night clubs are also having a special night on this day!
If you are looking to connect with expats and visitors from all over the world, you can also join the New years' Eve Bar Crawl in Nice. An affordable option where you are guaranty to make new friends and spend a good night out meeting fun people. Get ready for the biggest and craziest party around!
Book here.
Want new articles as soon as they get published?
Subscribe to our Awesome Newsletter.